Chemistry – the discipline in which all physical and biological sciences interact – is introduced at HEMDA, accordingly, with a rich program that integrates theory and experimental work.
Our students begin their journey into chemistry with hands-on experiments that enables them to master the basic tools of chemical research. On the first of our 3 years program we visit an environmental recycling center, a diamond museum and nature's most fascinating laboratory: The Dead Sea.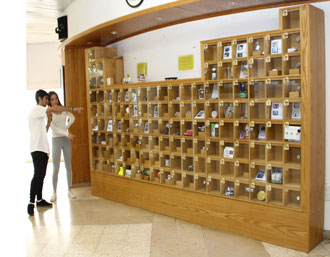 Our students also construct an artifact to be displayed in Israel's largest 3D periodic table.
During their second year our students deepen their chemical understanding and begin to plan and conduct their own experiments, using computerized sensors.
We continue our field trips with a visit to a Karst cave and a cement plant.
The Third and last year is dedicated to advanced topics and a final experimental study. Some of the projects involve daily chemical processes, such as hair bleaching or preventing colorful stains during laundary. Other deal with pure-science topics such as spontaneous pattern formation.
Our field visits culminate in an environmental study of the Yarkon river.